Play

Play Next

Add to queue
Play

Play Next

Add to queue

254 plays
Genre: Experimental / Indie / Rock

Location Tláhuac, México City, Distrito Federal, Mé

Profile Views: 175878

Last Login: 1/17/2013

Member Since 3/6/2005

Record Label Intolerancia - Rock Sessions

Type of Label Indie

Bio

..The John Band .. .. Originarios del sur oriente del D.F. Tláhuac específicamente, Ahora con 3 producciones discográficas ("BEDTIME" - 2004 y "HECHO EN CHINA" - 2006 y "Perdedores Vs. Perdedores" - 2009), las cuales se encuentran disponibles en todas las tiendas de discos. Calidad musical y actitud son la principal característica que define a esta banda, que en momentos podría considerarse para públicos muy selectos, sin embargo a impactado en todos los escenarios donde se a presentado, complementado una calidad musical para deleite y gusto del publico exigente ..The John Band - Maten al Criminal...... .. .. .. .. .. .. ...... ...... ..

Members

.. Alex .. - Guitarra y voz .. .. Leon Kompolky .. - Bateria .. .. Jorge .. - Guitarra .. .. Ivan .. - Bajo .. contrataciones e info: .. ..thejohnband@gmail.com.. .. .. .. .. .. .. .. .. ......

Influences

The Beta Band, King Biscuit Time, Radiohead, Pulp, The Smiths, The Beatles, The Divine Comedy, Belle and Sebastian, Pevement, Elbow, Mercury Rev, Rolling Stones, Space Hog, The Cure, Super Furry Animals, Kula Shaker, Meat Puppets, Toad The Wet Sproked, Eels, The Lemonheads, Krafwerk, Spiritualized, Stone Roses, Iron Maiden, Nick Cave, Yes, Arab Strap, Weezer, Rage Againts The Machine, etc.

Sounds Like
05:36 | 135 plays | Jul 5 2010
Bio:
The John Band
Originarios del sur oriente del D.F. Tláhuac específicamente, Ahora con 3 producciones discográficas ("BEDTIME" - 2004 y "HECHO EN CHINA" - 2006 y "Perdedores Vs. Perdedores" - 2009), las cuales se encuentran disponibles en todas las tiendas de discos. Calidad musical y actitud son la principal característica que define a esta banda, que en momentos podría considerarse para públicos muy selectos, sin embargo a impactado en todos los escenarios donde se a presentado, complementado una calidad musical para deleite y gusto del publico exigente
The John Band - Maten al Criminal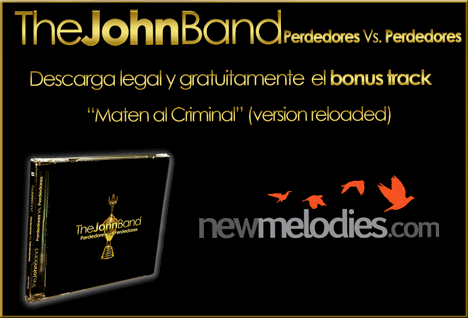 ..
Member Since:
March 06, 2005
Members:
Alex - Guitarra y voz
Leon Kompowsky - Bateria
Jorge - Guitarra
Ivan - Bajo
contrataciones e info:
thejohnband@gmail.com
..
Influences:
The Beta Band, King Biscuit Time, Radiohead, Pulp, The Smiths, The Beatles, The Divine Comedy, Belle and Sebastian, Pevement, Elbow, Mercury Rev, Rolling Stones, Space Hog, The Cure, Super Furry Animals, Kula Shaker, Meat Puppets, Toad The Wet Sproked, Eels, The Lemonheads, Krafwerk, Spiritualized, Stone Roses, Iron Maiden, Nick Cave, Yes, Arab Strap, Weezer, Rage Againts The Machine, etc.
Sounds Like:
? .. ..
Record Label:
Intolerancia - Rock Sessions