Play

Play Next

Add to queue
Play

Play Next

Add to queue

300,331 plays
Genre: House / Other / Pop

Location NY MIA LA, California, Un

Profile Views: 292774

Last Login: 10/14/2011

Member Since 6/5/2005

Website www.twitter.com/missakari

Type of Label Unsigned

Bio

.. .. .. ..There is nothing you could say to Akari to put out the fire in her soul. Her mysterious and exotic look is utterly intriguing. Her music is powerful and refreshing. Like the true meaning of her name she is a bright shining light, emerging from a dark ravine of talentless acts and pieced together careers. 2 words to describe her: sexy and edgy and the same can be said for her music. Akari's buttery voice combined with hard hitting tracks creates an addicting contrast. Akari is the apple that hasnt fallen far from the tree. .. ..The Vancouver, British Columbia native is no stranger to music or stage performance. She grew up in a musical family and at age 3, Akari would sing while her brother played the guitar. Akaris parents recognized her talent and she began taking formal dance lessons and studying classical and popular music at five years old. Akari studied ballet, jazz, hip-hop dance and piano. Akari creatively combined her love of dance with Kung Fu and practiced the martial arts each day in her ballet tutu. After playing the lead in several high school stage productions and exhibiting her musical prowess in the school band, Akari went to the Actors Working Academy in Vancouver which led her to appear in several major movie productions, During this time she sang background vocals for various local talents in Vancouver. Akari earned her position in the group formed by producers Timbaland and Jimmy Douglas (Justin Timberlake, Jay-Z, Missy Elliot), but due to a lack of commitment by other group members, the project fell apart. Timbaland and Jimmy Douglas recognized Akari as a shining star and encouraged her to pursue her dreams as a solo artist. Following her dreams, Akari moved to New York on her own. " I grew up listening to everything from Madonna and Micheal to Biggie and Jay-Z. I am inspired by artists like Pink and Evanescence whos I-dont-give-a-shit attitudes remind me so much of myself. I love watching a great live performance like Janet Jackson whos fusion of dancing/singing and acting blows me away and inspires me to be the best." Akari is an uncoming artist who has already worked with such talents as: Scott Storch, Brooke Hogan, Pretty Ricky, Yo Gotti, Danity Kane, Seven, P.Diddy, Pooh Bear, The Fliptones, The Monsters, Andre Mc.Cray, Chris Kelly...and more. "I know I am in this game of hurry-up-and-wait, but I am ready for the world, just have my Manley Gold Reference Mic ready in the booth, she laughs.".. ...... .. .. .. .. .. .. .. .. .. .. .. .. .. .. .. .. .. .. .. .. .. .. .. .. ...... .. .. .. .. .. ..

Members

.. .. .. .. .. .. .. .. .. .. .. .. .. .. .. .. .. .. .. .. .. .. .. .. .. .. .. .. .. .. ..MTV MAKING THE BAND 4 EPISODE 14..AKARI SONG "BROKEN RECORD".. .. .. .. .. .. .. .. .. .. .. .. .. .. .. .. .. .. .. .. .. .. .. .. .. .. .. .. .. .. .. .. .. .. .. ...... .. .. .. .. .. .. .. .. .. .. .. .. .. .. .. .. .. .... .. .. .. .. .. .. .... .. .. .. .... .. .. .. .... .. ........ .......... .. ........ .. .... .. ........ .. ........ .. ........ .. .... .. .. .. .... .. .. ..

Influences

Sounds Like
No recent updates in this category.
Why not...
03:22 | 309 plays | Sep 14 2007
Bio: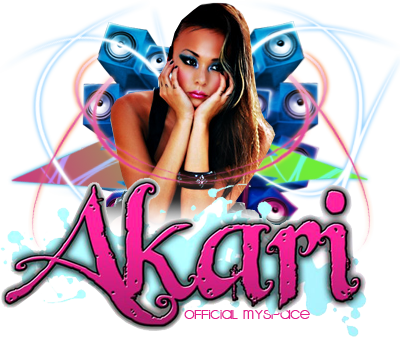 There is nothing you could say to Akari to put out the fire in her soul. Her mysterious and exotic look is utterly intriguing. Her music is powerful and refreshing. Like the true meaning of her name she is a bright shining light, emerging from a dark ravine of talentless acts and pieced together careers. 2 words to describe her: sexy and edgy and the same can be said for her music. Akari's buttery voice combined with hard hitting tracks creates an addicting contrast. Akari is the apple that hasnt fallen far from the tree.
The Vancouver, British Columbia native is no stranger to music or stage performance. She grew up in a musical family and at age 3, Akari would sing while her brother played the guitar. Akaris parents recognized her talent and she began taking formal dance lessons and studying classical and popular music at five years old. Akari studied ballet, jazz, hip-hop dance and piano. Akari creatively combined her love of dance with Kung Fu and practiced the martial arts each day in her ballet tutu. After playing the lead in several high school stage productions and exhibiting her musical prowess in the school band, Akari went to the Actors Working Academy in Vancouver which led her to appear in several major movie productions, During this time she sang background vocals for various local talents in Vancouver. Akari earned her position in the group formed by producers Timbaland and Jimmy Douglas (Justin Timberlake, Jay-Z, Missy Elliot), but due to a lack of commitment by other group members, the project fell apart. Timbaland and Jimmy Douglas recognized Akari as a shining star and encouraged her to pursue her dreams as a solo artist. Following her dreams, Akari moved to New York on her own. " I grew up listening to everything from Madonna and Micheal to Biggie and Jay-Z. I am inspired by artists like Pink and Evanescence whos I-dont-give-a-shit attitudes remind me so much of myself. I love watching a great live performance like Janet Jackson whos fusion of dancing/singing and acting blows me away and inspires me to be the best." Akari is an uncoming artist who has already worked with such talents as: Scott Storch, Brooke Hogan, Pretty Ricky, Yo Gotti, Danity Kane, Seven, P.Diddy, Pooh Bear, The Fliptones, The Monsters, Andre Mc.Cray, Chris Kelly...and more. "I know I am in this game of hurry-up-and-wait, but I am ready for the world, just have my Manley Gold Reference Mic ready in the booth, she laughs."
.. ..
Member Since:
June 05, 2005
Members:
Akari
..
MTV MAKING THE BAND 4 EPISODE 14
AKARI SONG "BROKEN RECORD"
Sounds Like:
ORIGINAL CLASSIC CHEMISTRY
Record Label:
?? LOOKING FOR " DISTRIBUTION DEAL " ??
AKARI- ft jim jones SUPAFINE download on itunes! has 19214 friends.