Play

Play Next

Add to queue
Play

Play Next

Add to queue

32,381 plays

Play

Play Next

Add to queue

26,327 plays

Play

Play Next

Add to queue

26,073 plays

Play

Play Next

Add to queue

18,365 plays
Genre: Jazz / Latin / Lounge

Location LAS VEGAS, Nevada, US

Profile Views: 183956

Last Login: 8/14/2009

Member Since 4/1/2006

Record Label Pablo Records, Pacific Jazz, Concord Records

Type of Label Major

Bio

.... ......Click here for more songs!.... ......The Shadow of Your Smile.. ...... ......Lush Life.. ...... ......Georgia on My Mind.. ...... ......Pennies From Heaven.. ...... ......At Last.. ...... ......Samba De Orfeus.. ...... ......Donna Lee.. ...... .......... ......Joe Pass Biography.. ................ .......... ..born Joseph Anthony Passalaqua, January 13, 1929, New Brunswick, New Jersey, USA, died May 23, 1994, Los Angeles, California, was a jazz guitarist. ........Early life and drug addiction...... .. Born into a non-musical family, Joe started to play the guitar when he was 9. He remembers his father Mariano, a steel mill worker, recognising early that his son had "a little something happening" and pushing him constantly to pick up tunes by ear, play pieces not written specifically for the instrument, practice scales and not to "leave any spaces" - that is, to fill in the sonic space between the notes of the melody. As early as 14, Joe started getting gigs and soon was playing with bands fronted by greats such as Tony Pastor and Charlie Barnet, honing his guitar skills and learning the music business. He began spending significant amount of time away from his home, traveling with small jazz groups and eventually moving from Pennsylvania to New York City. He did not pick up drinking and other bad habits from the musicians directly, but, in his words, "it was part of the whole scene". In a few years Joe fell victim to drug abuse, and spent much of the 1950s in relative obscurity. Pass managed to emerge from it through a two-and-a-half-year stay at a (since discredited) drug rehabilitation program, Synanon. During that time he at first abandoned the instrument completely, and returned to playing very slowly. His first "comeback" record in 1962, titled "The Sounds of Synanon", finds him playing a solid body rock guitar donated to the program. .... ....Discovery and subsequent career........ Pass recorded a series of albums during the 1960s for the Pacific Jazz label, including the early classics "Catch Me," "12-String Guitar," "For Django," and "Simplicity." In 1963, Pass received Downbeat Magazine's "New Star Award." Pass was also featured on Pacific Jazz recordings by Gerald Wilson, Bud Shank, and Les McCann. Pass toured with George Shearing in 1965. Mostly, however, during the 1960's he did TV and recording session work in Los Angeles. He was a sideman with Louis Bellson, Frank Sinatra, Sarah Vaughan, Joe Williams, Della Reese, Johnny Mathis, and worked on TV shows including the Tonight Show with Johnny Carson, the Merv Griffin Show, The Steve Allen Show, and others. In the early 1970s, Pass and guitarist Herb Ellis were performing together regularly at Dante's jazz club in Los Angeles. This collaboration led to Pass and Ellis recording the very first album on the new Concord Jazz label, entitled simply "JAZZ/CONCORD" (..CJS-1), along with bassist Ray Brown and drummer Jake Hanna. In the early 1970s, Pass also collaborated a series of music books, and his "JOE PASS GUITAR STYLE" (written with Bill Thrasher) is considered a leading improvisation textbook for students of jazz. It was Norman Granz, the iconic producer of Jazz at the Philharmonic and the founder of Verve Records, who, upon hearing Pass in 1970, immediately recognised the "new talent" and signed him to Granz's new Pablo Records label (named for Granz's friend Pablo Picasso). In 1974, Pass released his landmark solo album "Virtuoso" on Pablo Records. Also in 1974, Pablo Records released the album "The Trio" featuring Pass, Oscar Peterson, and Niels-Henning Ørsted Pedersen. "The Trio" won a Grammy award for best jazz performance. As part of the Pablo Records "stable," Pass also recorded with Benny Carter, Milt Jackson, Herb Ellis, Zoot Sims, Duke Ellington, Dizzy Gillespie, Ella Fitzgerald, Count Basie, and others. Pass and Ella Fitzgerald recorded four albums together on Pablo Records, toward the end of Fitzgerald's career. She had previously recorded several albums with just piano accompaniment, but a guitar proved the perfect melodic foil for her. They appeared together on the albums; Take Love Easy (1973), Easy Living (1986), Speak Love (1983) and Fitzgerald and Pass... Again (1976)..... ....Legacy........ In addition to his ensemble performances, the jazz community regards Joe Pass most significantly as a peerless solo guitarist. His solo style was marked by a sophisticated harmonic sense, counterpoint between improvised lead lines, bass figures and chords, spontaneous modulations, transitions from fast tempos to rubato passages, and a total command of the instrument. Pass's early style (influenced by saxophonist Charlie Parker, but not guitarist Django Reinhardt despite common misconception), was marked by fast single-note lines and a flowing melodic sense. Pass had the unusual lifelong habit of breaking his guitar picks in half and playing only with the smaller part. As Pass made the transition from ensemble to solo guitar performance, he preferred to abandon the pick altogether, and play fingerstyle. He found this enabled him to execute his harmonic concepts more effectively. His series of solo albums, "Virtuoso" (volumes 1 through 4) are a demonstration of Pass's excellent technique..... Played with: Oscar Peterson, Ella Fitzgerald, Duke Ellington, Dizzy Gillespie, Count Basie, Zoot Sims, Herb Ellis, Milt Jackson, Clark Terry, Andre Previn, Ray Brown, Neils Pederson, Toots Thielmans, Jake Hanna, Martin Drew, Freddie Hubbard, J.J. Johnson, Roy Eldridge, Buddy De Franco, Jimmy Rowles, Ronny Scott, Bobby Durham, John Piscano, Colin Bailey, Mickey Roker, Roy Clark, Steven Crapelli, Paulinho Da Costa, Tony Pastor, Chet Baker, Clifford Scott, Les McCann, Nancy Wilson, Gerald Wilson, Eddie Cleanhead Vinson, Carmen Mc Rae, Sarah Vaughn, Benny Carter, Tommy Gunima, Red Mitchell, and more. .. .... ................ ....These are just a few of the many great Joe Pass albums to buy them click.. ......www.amazon.com.. .. ....and/or for a list of.. ......all 165 albums.. .. .. ...... ...... ...... ...... ...... ...... ...... ...... ...... ...... ...... ...... ...... ...... ...... .. ..

Members

..Click here for the Joe Pass ......Memorial Page.. .. with a list of every album, biography, pictures, vidoes, books, etc. ..

Influences

Sounds Like

.. .. .. .. .. .. .. .. .. .. .. .. .. .. .. .... .. .. .. ................ .. .. .. .. .. .. .. .. .. .. .. .. .. .. .. .. .. .. .. .. ....Find this and more at LickbyNeck.com, youtube.com, dailymotion.com, google.com
No recent updates in this category.
Why not...
09:28 | 1774 plays | Jul 6 2007
Bio:
Click here for more songs!



The Shadow of Your Smile





Lush Life





Georgia on My Mind





Pennies From Heaven





At Last





Samba De Orfeus





Donna Lee




Joe Pass Biography

born Joseph Anthony Passalaqua, January 13, 1929, New Brunswick, New Jersey, USA, died May 23, 1994, Los Angeles, California, was a jazz guitarist.



Early life and drug addiction

Born into a non-musical family, Joe started to play the guitar when he was 9. He remembers his father Mariano, a steel mill worker, recognising early that his son had "a little something happening" and pushing him constantly to pick up tunes by ear, play pieces not written specifically for the instrument, practice scales and not to "leave any spaces" - that is, to fill in the sonic space between the notes of the melody. As early as 14, Joe started getting gigs and soon was playing with bands fronted by greats such as Tony Pastor and Charlie Barnet, honing his guitar skills and learning the music business. He began spending significant amount of time away from his home, traveling with small jazz groups and eventually moving from Pennsylvania to New York City. He did not pick up drinking and other bad habits from the musicians directly, but, in his words, "it was part of the whole scene". In a few years Joe fell victim to drug abuse, and spent much of the 1950s in relative obscurity. Pass managed to emerge from it through a two-and-a-half-year stay at a (since discredited) drug rehabilitation program, Synanon. During that time he at first abandoned the instrument completely, and returned to playing very slowly. His first "comeback" record in 1962, titled "The Sounds of Synanon", finds him playing a solid body rock guitar donated to the program.



Discovery and subsequent career



Pass recorded a series of albums during the 1960s for the Pacific Jazz label, including the early classics "Catch Me," "12-String Guitar," "For Django," and "Simplicity." In 1963, Pass received Downbeat Magazine's "New Star Award." Pass was also featured on Pacific Jazz recordings by Gerald Wilson, Bud Shank, and Les McCann. Pass toured with George Shearing in 1965. Mostly, however, during the 1960's he did TV and recording session work in Los Angeles. He was a sideman with Louis Bellson, Frank Sinatra, Sarah Vaughan, Joe Williams, Della Reese, Johnny Mathis, and worked on TV shows including the Tonight Show with Johnny Carson, the Merv Griffin Show, The Steve Allen Show, and others. In the early 1970s, Pass and guitarist Herb Ellis were performing together regularly at Dante's jazz club in Los Angeles. This collaboration led to Pass and Ellis recording the very first album on the new Concord Jazz label, entitled simply "JAZZ/CONCORD" (..CJS-1), along with bassist Ray Brown and drummer Jake Hanna. In the early 1970s, Pass also collaborated a series of music books, and his "JOE PASS GUITAR STYLE" (written with Bill Thrasher) is considered a leading improvisation textbook for students of jazz. It was Norman Granz, the iconic producer of Jazz at the Philharmonic and the founder of Verve Records, who, upon hearing Pass in 1970, immediately recognised the "new talent" and signed him to Granz's new Pablo Records label (named for Granz's friend Pablo Picasso). In 1974, Pass released his landmark solo album "Virtuoso" on Pablo Records. Also in 1974, Pablo Records released the album "The Trio" featuring Pass, Oscar Peterson, and Niels-Henning Ørsted Pedersen. "The Trio" won a Grammy award for best jazz performance. As part of the Pablo Records "stable," Pass also recorded with Benny Carter, Milt Jackson, Herb Ellis, Zoot Sims, Duke Ellington, Dizzy Gillespie, Ella Fitzgerald, Count Basie, and others. Pass and Ella Fitzgerald recorded four albums together on Pablo Records, toward the end of Fitzgerald's career. She had previously recorded several albums with just piano accompaniment, but a guitar proved the perfect melodic foil for her. They appeared together on the albums; Take Love Easy (1973), Easy Living (1986), Speak Love (1983) and Fitzgerald and Pass... Again (1976).



Legacy



In addition to his ensemble performances, the jazz community regards Joe Pass most significantly as a peerless solo guitarist. His solo style was marked by a sophisticated harmonic sense, counterpoint between improvised lead lines, bass figures and chords, spontaneous modulations, transitions from fast tempos to rubato passages, and a total command of the instrument. Pass's early style (influenced by saxophonist Charlie Parker, but not guitarist Django Reinhardt despite common misconception), was marked by fast single-note lines and a flowing melodic sense. Pass had the unusual lifelong habit of breaking his guitar picks in half and playing only with the smaller part. As Pass made the transition from ensemble to solo guitar performance, he preferred to abandon the pick altogether, and play fingerstyle. He found this enabled him to execute his harmonic concepts more effectively. His series of solo albums, "Virtuoso" (volumes 1 through 4) are a demonstration of Pass's excellent technique.

Played with: Oscar Peterson, Ella Fitzgerald, Duke Ellington, Dizzy Gillespie, Count Basie, Zoot Sims, Herb Ellis, Milt Jackson, Clark Terry, Andre Previn, Ray Brown, Neils Pederson, Toots Thielmans, Jake Hanna, Martin Drew, Freddie Hubbard, J.J. Johnson, Roy Eldridge, Buddy De Franco, Jimmy Rowles, Ronny Scott, Bobby Durham, John Piscano, Colin Bailey, Mickey Roker, Roy Clark, Steven Crapelli, Paulinho Da Costa, Tony Pastor, Chet Baker, Clifford Scott, Les McCann, Nancy Wilson, Gerald Wilson, Eddie Cleanhead Vinson, Carmen Mc Rae, Sarah Vaughn, Benny Carter, Tommy Gunima, Red Mitchell, and more.





..

..

These are just a few of the many great Joe Pass albums to buy them click


www.amazon.com

..
and/or for a list of


all 165 albums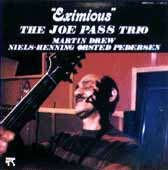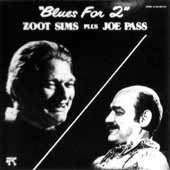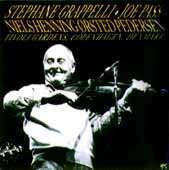 Member Since:
April 01, 2006
Members:
Click here for the Joe Pass

Memorial Page

with a list of every album, biography, pictures, vidoes, books, etc. ..
Record Label:
Pablo Records, Pacific Jazz, Concord Records
Joe Pass has 16850 friends.