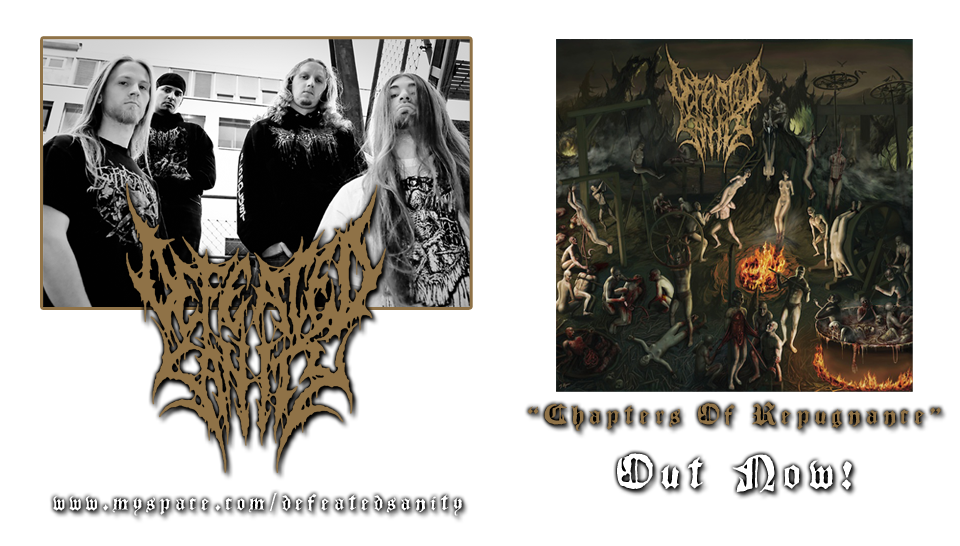 Play

Play Next

Add to queue
Play

Play Next

Add to queue

826 plays

Play

Play Next

Add to queue

189 plays

Play

Play Next

Add to queue

8,082 plays

Play

Play Next

Add to queue

3,488 plays

Play

Play Next

Add to queue

2,536 plays

Defeated Sanity was formed in 1994 and since then developed its own unique style inspired by the 90's US Death Metal bands. After releasing a couple of demos and splits on various small labels they teamed up with Grindethic Records to release their first two albums "Prelude To The Tragedy" (2004) and "Psalms Of The Moribund" (2007) which established them as a promising newcomer to the international death metal scene.

The newest effort "Chapters Of Repugnance", a concept album dealing with some of the most cruel deeds in the history of mankind, has just been released through Willowtip Records and features AJ Magana (Ex-Disgorge) on vocals. Once again it represents all that Defeated Sanity stands for: Uncompromisingly brutal death metal with a progressive attitude - not relying on stale patterns but creating the right atmosphere to fit the lyrical subjects.


Defeated Sanity CHAPTERS OUT NOW has 15061 friends.