Play

Play Next

Add to queue
Play

Play Next

Add to queue

15,354 plays

Play

Play Next

Add to queue

14,485 plays

Play

Play Next

Add to queue

85,685 plays

Play

Play Next

Add to queue

29,458 plays

Play

Play Next

Add to queue

48,280 plays
Genre: Hardcore / Metal / Thrash

Location WHITTIER, California, US

Profile Views: 1061537

Last Login: 1/26/2012

Member Since 5/27/2004

Website facebook.com/antagonistmetal

Record Label PROSTHETIC RECORDS

Type of Label Indie

Bio

DECEMBER 11, 2010- ANTAGONIST HOME SHOW!.... .......... ...... .... .. .. .. .. .. .. ......Tour Stop Ep. 13.. from ..Community-Minded TV.. on ..Vimeo..... ...... .. ...... In the rapidly changing and evolving world of heavy music, bands come and go faster than you can get a value meal at a fast food restaurant. Finding bands who are still slugging it out after a decade is a rare occurrence. What's even more uncommon is finding a band who have recorded their most intense and career defining album 12 years into their career. But, that is exactly the case with Southern California's ANTAGONIST, and their new album, "World In Decline.".. The band was formed by, then teenaged, singer/guitarist Carlos Garcia and drummer Lond Garcia in 1998 and released two albums and three EPs before signing with Prosthetic Records and releasing 2008's "Exist." After a few lineup changes through the decade, the current lineup features the (unrelated) Garcias, along with guitarist Roland Leonard and bassist Nick Reyes. The band hit Buzz Bomb Studios in Orange, CA earlier this year with producer Paul Miner (Thrice, Throwdown, Terror) who recorded, mixed and mastered the effort. The band's sound has gotten tighter, more technical, and angrier on "World In Decline," while summoning the thrash of early Metallica, the groove of Pantera and the technical death metal of At The Gates, while still holding on to the strings of melody and the guitars have never been more searing and ferocious. Carlos Garcia commented on "World In Decline;" "This is the first album to feature our newer lineup, so the songwriting is noticeably different in some areas; nothing too out of left field, but definitely some vibes different from the usual Antagonist sound. But we promise lots of shred, lots of circle pits, and lots of groove. Probably the biggest difference this time around is the clean singing (or lack thereof). This is a very pissed off album lyrically and thematically, so we thought it would only be proper to NOT include any clean singing this time around. I know some of you won't like that, but it's something we felt would be necessary to hopefully get our point across... 'Exist' had a hopeful message of working together as humans towards a better future. 'World In Decline' is about the realization that things will always be fucked up, people will always be selfish, and this world is going to end at any minute, and we have nobody to blame but ourselves. People grow older and figure out that life doesn't get any easier and that our own selfishness, carelessness, and ignorance are at the core of our demise. So right now, that's where our heads are at, which in turn, no doubt, lead to a much more aggressive and angry album. ".. ANTAGONIST is in the midst of plotting a US tour in the fall, and will be on the road continuously throughout the foreseeable future. It will certainly not be a shock to their system as they've put countless miles on their van through continuous touring over their existence with the likes of Animosity, Light This City, The Faceless, Arsonists Get All The Girls, and more..... ...... ...... .... .... .. .. ........

Members

.. .. .. .. .. .. .. .. ..!-Remove Maroon Menu Bar Band Page!-<.. .. .... .. .. .... .. .. .. .... .. .. ...... .. .. ...... .. .. ...... .. .. .. .... .. .. .. .... .. .. .. .... .. .. .. .... .. .. .. .. ...... .. .. ...... .. .. ...... .. .. ...... .. .. ...... .. .. ...... .. .. ...... .. .. .. .. ...... .. .... .. .. .. .... .. .. .. .... .. .... .. .... .. .... .. .... .. .... .. .... .. .... .. .... .. .... .. .... .. .. .. .. .. .. .. .. ...... .. .. .. .. .. .. .. .... .. .. .. .. ...... .. .. .. .. ...... .. .. .. .. ...... .. .. .. .. ...... .. .. .... ...... .. .. ....HOMETOWN.... ....Whittier, CA.... .. .. ....URL.... ....../antagonist........ .. .. ....GENERAL CONTACT.... ......antagonistinfo@hotmail.com........ .. .. ....ARTWORK/LAYOUT.... ......McBride Design........ .. .. ....LABEL.... ....Prosthetic Records...... .. .. .. ..

Influences

anything and everything that's ever stirred an emotion or sparked a thought or conversation. the world we live in and the people we've encountered have drastically influenced our perception of life.

Sounds Like
02:02 | 579 plays | May 1 2009
Bio:
DECEMBER 11, 2010- ANTAGONIST HOME SHOW!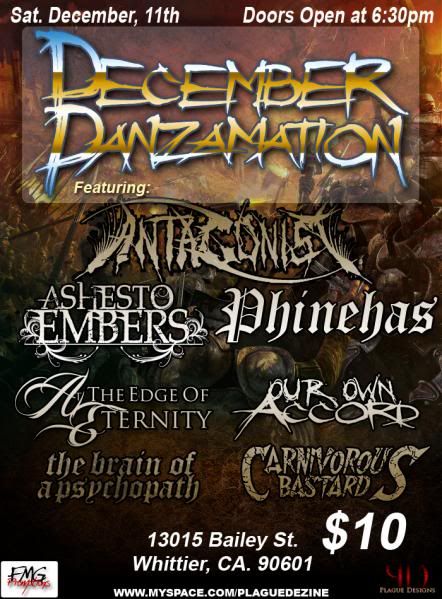 Tour Stop Ep. 13 from Community-Minded TV on Vimeo.
In the rapidly changing and evolving world of heavy music, bands come and go faster than you can get a value meal at a fast food restaurant. Finding bands who are still slugging it out after a decade is a rare occurrence. What's even more uncommon is finding a band who have recorded their most intense and career defining album 12 years into their career. But, that is exactly the case with Southern California's ANTAGONIST, and their new album, "World In Decline."
The band was formed by, then teenaged, singer/guitarist Carlos Garcia and drummer Lond Garcia in 1998 and released two albums and three EPs before signing with Prosthetic Records and releasing 2008's "Exist." After a few lineup changes through the decade, the current lineup features the (unrelated) Garcias, along with guitarist Roland Leonard and bassist Nick Reyes. The band hit Buzz Bomb Studios in Orange, CA earlier this year with producer Paul Miner (Thrice, Throwdown, Terror) who recorded, mixed and mastered the effort. The band's sound has gotten tighter, more technical, and angrier on "World In Decline," while summoning the thrash of early Metallica, the groove of Pantera and the technical death metal of At The Gates, while still holding on to the strings of melody and the guitars have never been more searing and ferocious. Carlos Garcia commented on "World In Decline;" "This is the first album to feature our newer lineup, so the songwriting is noticeably different in some areas; nothing too out of left field, but definitely some vibes different from the usual Antagonist sound. But we promise lots of shred, lots of circle pits, and lots of groove. Probably the biggest difference this time around is the clean singing (or lack thereof). This is a very pissed off album lyrically and thematically, so we thought it would only be proper to NOT include any clean singing this time around. I know some of you won't like that, but it's something we felt would be necessary to hopefully get our point across.
'Exist' had a hopeful message of working together as humans towards a better future. 'World In Decline' is about the realization that things will always be fucked up, people will always be selfish, and this world is going to end at any minute, and we have nobody to blame but ourselves. People grow older and figure out that life doesn't get any easier and that our own selfishness, carelessness, and ignorance are at the core of our demise. So right now, that's where our heads are at, which in turn, no doubt, lead to a much more aggressive and angry album. "
ANTAGONIST is in the midst of plotting a US tour in the fall, and will be on the road continuously throughout the foreseeable future. It will certainly not be a shock to their system as they've put countless miles on their van through continuous touring over their existence with the likes of Animosity, Light This City, The Faceless, Arsonists Get All The Girls, and more.


..
Member Since:
May 27, 2004
Members:
.. .. .. .. .. .. .. ..
!-Remove Maroon Menu Bar Band Page!-<
..
| | |
| --- | --- |
| HOMETOWN | Whittier, CA |
| URL | |
| GENERAL CONTACT | |
| ARTWORK/LAYOUT | |
| LABEL | Prosthetic Records |
Influences:
anything and everything that's ever stirred an emotion or sparked a thought or conversation. the world we live in and the people we've encountered have drastically influenced our perception of life.
Record Label:
PROSTHETIC RECORDS
Label Type:
Indie
Antagonist (NEW BLOG, NEW ALBUM!) has 32708 friends.