Jessie Davis hasn't earned any badges yet... have you?
Play

Play Next

Add to queue

Play

Play Next

Add to queue

Play

Play Next

Add to queue

Play

Play Next

Add to queue

Play

Play Next

Add to queue
About me:
..


You Are a Husky Puppy
http://www.blogthings.com/whatbreedofpuppyareyouqu...
Sweet, affectionate, and docile.
But when you see a cat or chicken, it's kill kill kill!!!
bored ....
No More Secrets
TAKE THIS SURVEY!
Take this survey
When did you last cry?
four days ago
What was the reason you last cried?
because i am stuck on someone
Do you consider yourself and emotional person?
very
Does anything hurt on your body?
everything
Any current scabs or bruises?
bruises
Are you klutsy or accident prone?
yep
Ever tripped over your own feet?
sure have
How long has it been since you took vitamins?
forever ago
When is the last time you took medicine?
yesterday
What was the medicine for?
headache
Ever had any illnesses or diseases?
yep
Do you get headaches often?
daily ususally
Do you have health insurance?
yep
If so, who is it through?
???
Do you want plastic surgery?
sure do
If it was free, what 1 thing would you have done?
i would get boobs for sure =)
How much do you think it costs to have a boob job?
dont know but i want one
Do you have or want any tattoo's?
yep, and i am getting more
If so, what do you have or want?
stars on my foot
Would you consider permanent make-up?
maybe
What do you think is the perfect age to start having children?
24ish
How many children would you like to have?
1-2
Do you already have names picked out of your future children?
kinda
How effective is the pull out method when it comes to birth control?
not very
What is your birth control method of choice?
pills
Ever had a pregnancy scare when you weren't planning?
nope
Do you get along better with your mom or dad?
mom
When did you last speak to a family member?
few hours ago
How much do you spend on your parents for Christmas?
depends
Will you raise your children how you were raised?
nope
Are you a Christian?
sorta
Do you consider yourself to be religious?
not really
When is the last time you attended a church service?
few weeks ago
Do you want to have a closer relationship with God?
??
Do you have anyone you can talk to about God and not feel judged?
yeah
Are you saving your money for any big purchase right now?
trying to
If you were given 1k dollars and had to use it on 1 purchase, what would you buy?
downpayment for car
CLICK HERE TO TAKE THIS SURVEY!

MySpace Surveys
Zwani
Zwani
Hot Attitude Myspace Quotes
......
Who I'd like to meet: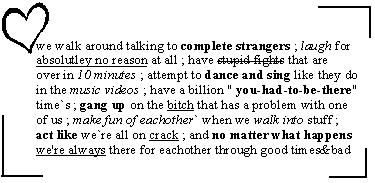 Generic Survey 1:
The Basics
Full Name
Jessica Rae Davis
You like it?
yeah
Birthdate
June 16,1990
Height/Weight
5'7"
Eye Color
blue,and green
Hair Color
blonde
Can you...
Drive?
yep
Drive a manual?
sure do
Touch your nose with your tongue?
nope
Cook?
yep
Dance?
no
Sing?
not well
Sew?
if its needed
Speak another language?
sorta
Have you ever...
Eaten sushi?
no
Been in love?
yea
Skipped school?
yes
Made prank calls?
back in the day
Done illegal drugs?
no
Stolen something worth more than ?
no
Flashed someone?
no
Been drunk?
nope
Eaten squid?
no
Been to New York City?
no
Been to London?
no
Favorite
Drink
Gatorade
Soda
Mt. Dew
Food
chicken
Restaurant
Outback
Color
Lime Greene
Artist
Jason Aldean
Album
Wide Open
Website
myspace
The Last
Person to hit you
my dad
Person you wanted to hit
hmm
Person you hugged
mom
Person you kissed
forget him
Person you wanted to kiss you
??
Country you've been in
USA
Car you've driven
mine
Law you've broken
ran stop sign
Thing you ate
toast
Thing you drank
water
Thing you said
bye
Book you read
Twilight
Show you watched
John and Kate plus 8
Take this survey or other MySpace Surveys at PimpSurveys.com
Status:

Single

Here for:

Dating, Friends

Hometown:

Vinton

Orientation:

Straight

Height:

5' 6"

Ethnicity:

White / Caucasian

Religion:

Christian - other

Zodiac Sign:

Gemini

Children:

Someday

Smoke / Drink:

No / No

Education:

In college

Occupation:

Certified pharmacy tech
University Of Rio Grande

Rio Grande,OH

Graduated:

N/A

2008 to Present

Vinton County High School

Mc Arthur,Ohio

Graduated:

2008

Student status:

Alumni

Degree:

High School Diploma

2004 to 2006
Hocking Vally Community Hospital